You and Your Instrument: David C
You and Your Instrument
– David C (trumpet)
During Lockdown I have been rather busy.  I am normally very active anyway, but lockdown has introduced a new range of activities.  My father-in-law, David, has been staying with us for the last 8 weeks, so our routine has changed somewhat.  Catherine and I have become grandparents for the 2nd and 3rd time since we saw you all.  Maisie Sophia Scott was born to our daughter Emily and her husband Bobby on 2nd April.  So Lucas (aged 1 ½) now has a baby sister.  And our son Tom, and his wife Lucy are proud parents of Elodie Flora Jean Chapman born on 23rd May.  You can imagine that we are all somewhat frustrated at not being able to go up to York to see Maisie and with restrictions regarding Elodie (although only in Sydenham).
I have been running the remote collaboration projects with the band and with my church choir.  This is quite fun to do, but is of course time consuming.  I have also been involved in providing online church service information via our St Peter's Streatham website and preparing for streaming of services when we get a new priest at the end of July.  We have also been recruiting a new Director of Music for church (zoom interviews) – so quite a lot to do.   But really missing choir and band activities.
It has been very nice, when out walking with father-in-law or when out running in Beckenham to be greeted with cheery "hello"s.  I hope that continues as the lockdown phase ends.  And I have really enjoyed the sunny weather.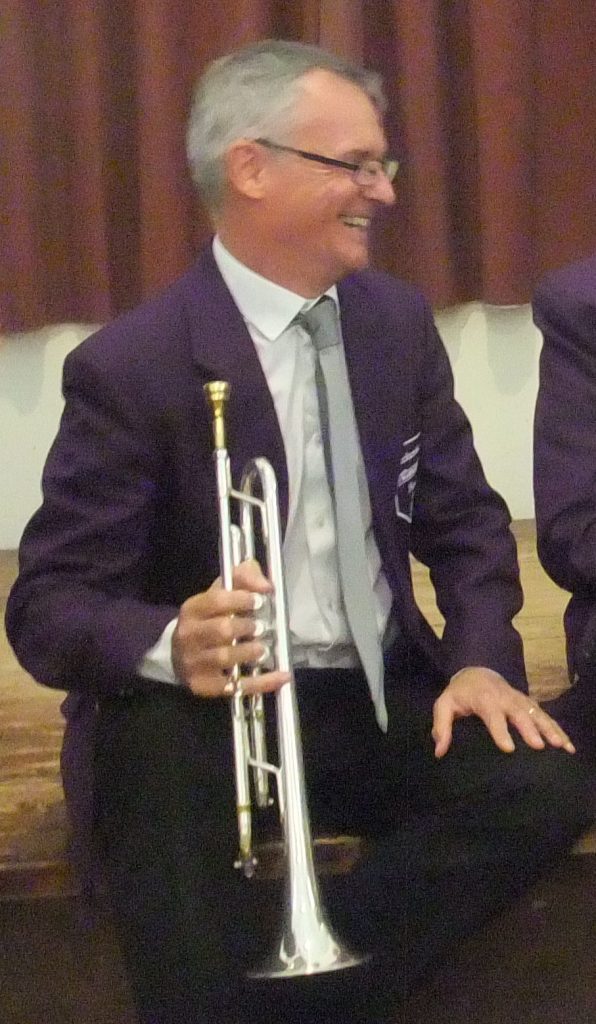 You and Your Instrument Questionnaire
Q. When did you first start playing your instrument?
Trumpet – 1974  |  Piano – 1976  | French Horn – 1978
Q. What or who inspired you?
My older brother, Andrew, played the Euphonium, and so I wanted to join the school bands.
Q. Who taught you?
My trumpet teacher was Anthony Hogg.  Quite demanding!
Q. Which bands have you played in?
Not many.
My school, Kingsdale in Dulwich, had a Concert band and a Dance Band.  The Dance Band was of a very high standard and we were runners-up twice and winners twice in National Youth Music competitions in 1975, 76, 77 and, 78.  We appeared on Blue Peter, Magpie and we were in the very first three annual Schools Proms at the Albert Hall in 1975, 76 and 77.  The latter two schools proms were televised and clips can be found online.  Here is a link to the 1976 Schools Prom below.  The band performance starts 4 minutes into the video.  We play Summer of 42 with our alto sax lead, Jamie Talbot, playing the solo and then we play I can't get started with guest soloist Humphrey Lyttelton.
Link: 1976 Schools Prom – Kingsdale School Dance Band (4 minutes into video)
We took part in  the International Festival of Youth Orchestras in Aberdeen in 1976 and 1979 and as part of this performed in the Crystal Palace Concert Bowl in 1979.
Through my trumpet teacher, Anthony Hogg, I was accepted to play French Horn with the Merton Youth Orchestra and went on tour with them to the Loire Valley in France in 1981.  It was wonderful being able to rehearse and perform Mahler's 1st Symphony and Beethoven's 6th Symphony.
Once I started work, my Trumpet and French Horn playing was limited to church impromptu bands.  Louisa Warren tried to tempt me to play with the Beckenham Concert Band on a number of occasions, and I succumbed in 2008!
Q. Name three highlights of your band playing career.
There were a number of highlights from my youth as you can see above, including playing at Number 10 Downing Street in 1979.  But, playing with Beckenham Concert Band I would say that the two tours (Normandy and Neuwied) were great events.
The Little Bromley Theatre collaboration for Brassed Off (2011) was a fun experience.
But in general, I really enjoy rehearsing and performing in concerts.
Q. Name one thing you would like to do in the future with BCB.
It would be really great for the Beckenham Concert Band to be able to play in the Beckenham Recreation Ground Band Stand.  Just because we should!
Q. Please provide a photograph or two if you can of yourself playing or engaging in a musical activity.
See photos: In the garden (1974), Kingsdale School Dance Band – Trumpet Section – Schools Prom 1976 (I am third from top of picture), Brassed Off (2011).