About the band
The Beckenham Concert Band was founded in 1977 by Ken Messenger. Over the years the band has continued to grow and now draws from a regular membership of over forty musicians.
The Band averages around eight concerts per year, many of these performances, both indoor and outdoor, are in aid of local charities. Venues such as the bandstands of the Royal Parks, Southwark Park and on the sea front at Eastbourne and Brighton have featured in our summer seasons.
The has also been invited to perform at corporate and national charitable events for organisations such as The Children's Society, Great Ormond Street Hospital, RNLI, St Christophers' Hospice, the London Open House Weekend and Sodexo.
The Band admits Adults and Young People (from 15+) as members. We have a Safeguarding procedure in place for the protection of vulnerable people. You can see details and points of escalation here.
Musical Director – Felicity Cliffe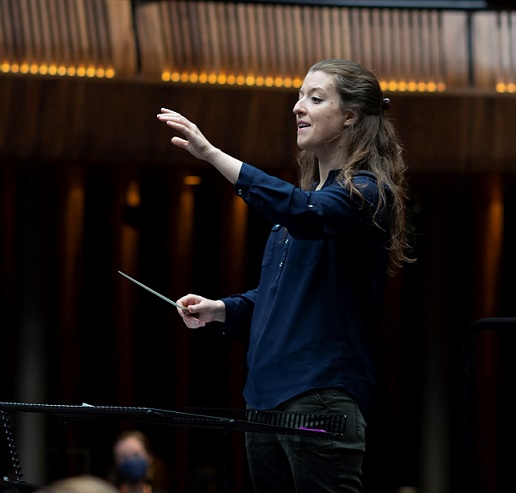 May 2023: We are recruiting for a new Musical Director. See here for more information.
Having started her musical journey at a young age as part of the orchestras at the Bromley Youth Music Trust, Felicity completed her undergraduate studies in oboe and cello at Trinity Laban Conservatoire of Music and Dance in 2017. Whilst she was there, she began her conducting studies with Jonathan Tilbrook as part of her degree and with Alice Farnham as part of Morley College's commitment to encourage and support young female conductors.

Since graduating, Felicity has been a participant on Denise Ham's London Conducting Academy (2018/19) and on the Sorrell Women Conductors' Programme (Phase II), led by Sian Edwards at the Royal Academy of Music. She was also appointed Conductor of the Hayes Symphony Orchestra in 2019.

2022 saw the exciting debut concert from her own orchestra, The Orchestra of St. Clement's, an orchestra that performs core repertoire at monthly concerts in Islington that are free for everyone to enjoy. She will also be programming and conducting a chamber orchestra concert at the Amadeus Academy 2022 as part of her role as assistant conductor. She has participated in masterclasses with Toby Purser and the Orion Orchestra at the Aberystwyth MusicFest and with Paul Wynne Griffiths and the Orchestra of the Royal Opera House.

Alongside her work as a conductor, Felicity enjoys freelance performance opportunities as an oboist with orchestras and as a soloist in the UK, Europe and Asia. She is delighted to have this opportunity to work with the talented musicians of the Beckenham Concert Band.